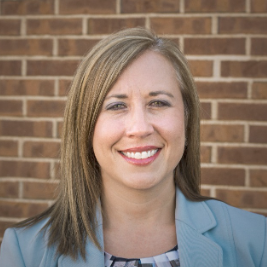 Kristy Bull is a Gerontologist with a true passion for serving the older adult population and their families. Her passion stems from a childhood surrounded by older adults, as she often visited homebound seniors with her father who was a minister. She spent a great deal of time with her grandparents, and her fascination and respect for this generation continues to grow even today!
Kristy received a Bachelor of Science in Business Administration from Southeast Missouri State University, majoring in Management with a minor in Gerontology. She also holds a graduate certificate in Case Management from the Boston University School of Social Work and a graduate certificate in Nonprofit Management and
Leadership from the University of Missouri – St. Louis. She is Care Management Certified through the National Academy of Certified Care Managers and an active member of the Aging Life Care Association.
Kristy has over ten years of business experience specializing in human resources, marketing, and nonprofit development, but she has also been privileged to work directly with older adults over the last 25 years as well. Her background has been in lifestyle enrichment, hospice, adult day care and managing volunteer programs that specialized in socialization and financial management for seniors. She has experience in all levels of care in senior living communities and has been trained in Dementia Capable Care.
Kristy has been happily married for 25 years and has three young adult children. She enjoys hiking, reading, and spending time at the family cabin. She volunteers with local Lutheran schools and sits on her church leadership team. Her personal experience through end-of-life care with her in-laws before their passing, and the ongoing need for care management for her own elderly parents, inspired her career choice to become a Geriatric Care Manager. Her goal is to serve seniors by helping them navigate the aging process, filling their days with hope, joy, and peace.